Share this page on:







Captain Vancouver®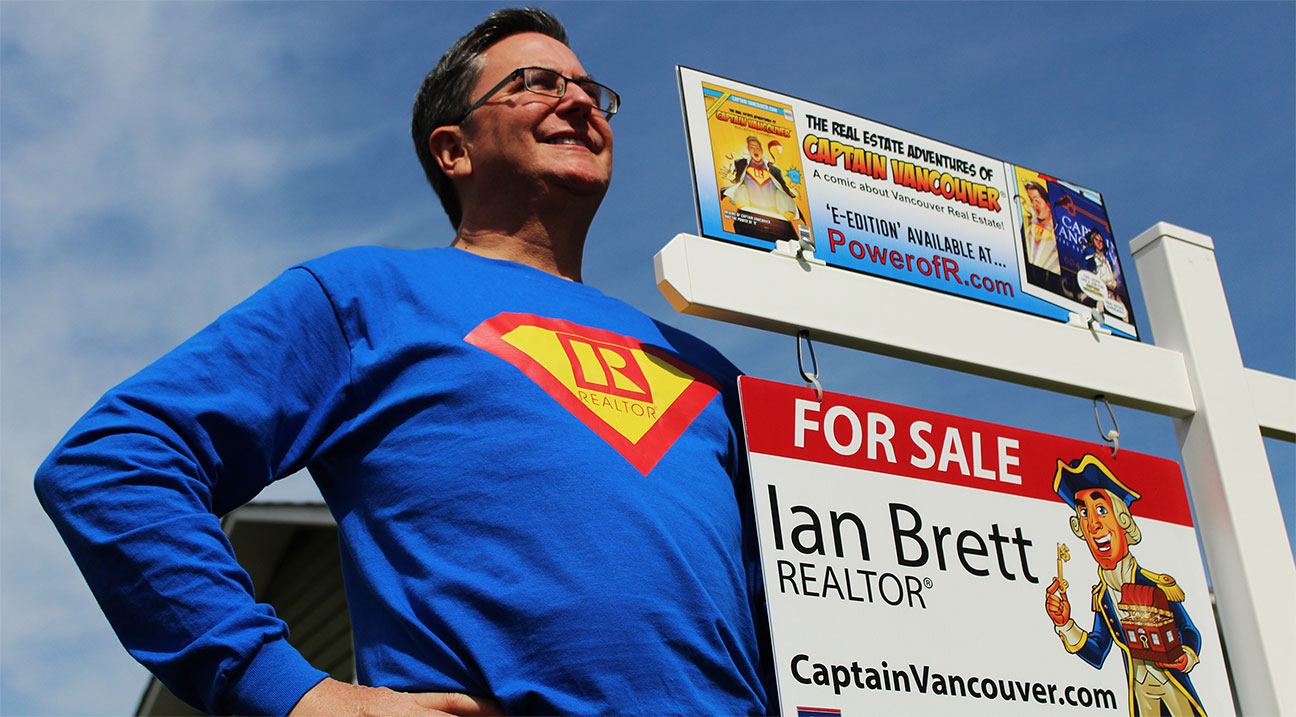 Captain Vancouver® Real Estate Superhero
Welcome to the POWER OF R and the Real Estate Adventures of Captain Vancouver® Real Estate Superhero.
I'm Ian Brett, Vancouver area Realtor aka Captain Vancouver®
Vancouverites love talking about Real Estate. There is hardly a day that goes by when there isn't a news article on housing prices, affordable housing, shadow flipping, foreign investors, unscrupulous agents, citizens who don't have a million, and multi-millionaires who let their homes sit vacant while the city's rental housing crisis is at a breaking point and much, much, more!
I started the Real Estate Channel in the 80's and when I started theCaptain Vancouver® Real Estate Network a couple of years ago it was to promote the extra value of real estate services that I was offering. I was proud that I could offer more in the way of technology and services than most Realtors. I thought that good, honest service would be enough! My view of the Real Estate industry was simplistic. As a Realtor, I had a front row seat to the interworking's of an industry that places service, honesty and integrity last and sleazy marketing, questionable tactics, unquenchable greed first. I ended up just as disillusioned as many Vancouverites.
Real Estate in Vancouver had become less and less about 'great service' and value for the commission earned by Realtors, and more about what was wrong with the industry. The Real Estate industry seemed badly in need of a Superhero to rid the city of Vancouver of the Villains of bad Real Estate. So I became Captain Vancouver® Real Estate Superhero! Why am I a superhero? Well it's because I want to commit to going beyond the standards that Realtors promise to undertake when they get their license. I don't want to just meet the minimum expected standards. I want to exceed your expectations! Here is what I promise to you:
#1.

I'm committed to upholding all RE rules and further commit to upholding the highest standards of ethics (no funny business here!)
#2.

I get that times are tough and every bit counts especially when your moving. Tell me what's going on in your life so I can help! Part of how I help is by offering a Negotiated Commission rate or my Cash Back program
#3.

I promise to give you value for the commission earned. I pay out of my pocket for photography, videography, custom ads and more so that your home will be more attractive to sell for top value, and to a larger pool of potential buyers.
Give me a call at
(604)Your Key
, 604-948-7539
I'll help you navigate the rough waters of Real Estate in Vancouver, provide you with stellar service with a smile and always hold to the highest standards of integrity!

CHARACTERS
About Captain Vancouver® Comic
We are on the
second edition
of the Captain Vancouver comic. You're going to notice a style change from the first inaugural comic. Both comics were written by none other than
Mega Media Maven
herself! The first was designed by
D. Dao
and the second was designed by
Frannie Q
. Hiring local artists is one way that we give back to our community. Email us if you are a local comic artist, we would love to hear from you!
The Captain Vancouver® Comic series takes in the fictional city called
The Metropolis of Vancouver
. The series is about mild mannered
Realtor Ian Brett
who transforms into
Captain Vancouver
who along with his dog 'buddy' travels the city on his '4 SAIL SHIP'.
Captain Vancouver® is the only local real estate superhero who saves Vancouverites from the bad real estate shenanigans that have been going on. Yes, 'buddy' is a real dog! The inaugural comic will tell you how Ian Brett transformed into Captain Vancouver® so make sure you read it first!
We take special care to show Vancouver's skyline, beaches and area landmarks. You'll likely notice the Woodwards 'W' tower in our second edition,
"Captain Vancouver vs. the Shadow Flipper."
We created our characters to be a parody of local celebs, media personalities, politicians and better known Realtors in the Vancouver area. Our characters are fictitious and done in good fun.
Sign up for future editions and make sure you visit my Real Estate website at:
Captain Vancouver
, the original
Real Estate Superhero
and high tech crusader.

---
Disclaimer: The data relating to real estate on this web site comes in part from the MLS® Reciprocity program of the Real Estate Board of Greater Vancouver, and the Fraser Valley Real Estate Board. Real estate listings held by participating real estate firms are marked with the MLS® logo and detailed information about the listing includes the name of the listing brokerage. This representation is based in whole or part on data generated by the Real Estate Board of Greater Vancouver, and the Fraser Valley Real Estate Board who assume no responsibility for its accuracy. The materials contained on this page may not be reproduced without the express written consent of the Real Estate Board of Greater Vancouver, The Fraser Valley Real Eztate Board, and Ian Brett. We make every effort to ensure that the information and data contained on this website is correct. However, we cannot accept liability or guarantee that the information and data provided is up-to-date, correct and complete. This also applies for all other websites referred to by means of a hyperlink. Nor is Ian Brett responsible for the contents of such websites reached by means of such a link. We reserve the right to modify or supplement the information or data provided without prior notice.
---